This section provides access to all SPIE news available in multiple formats: publications, videos, social networks and mobile apps.
News
Quarterly information at March 31st, 2021
A solid quarter: return to organic revenue growth, EBITA margin at pre Covid-19 level.
Publications
From annual reports and commercial brochures to internal magazines and corporate documents, the virtual library catalogues all official SPIE documents. These publications can be viewed online, downloaded, or shipped by mail through the Print On Demand service.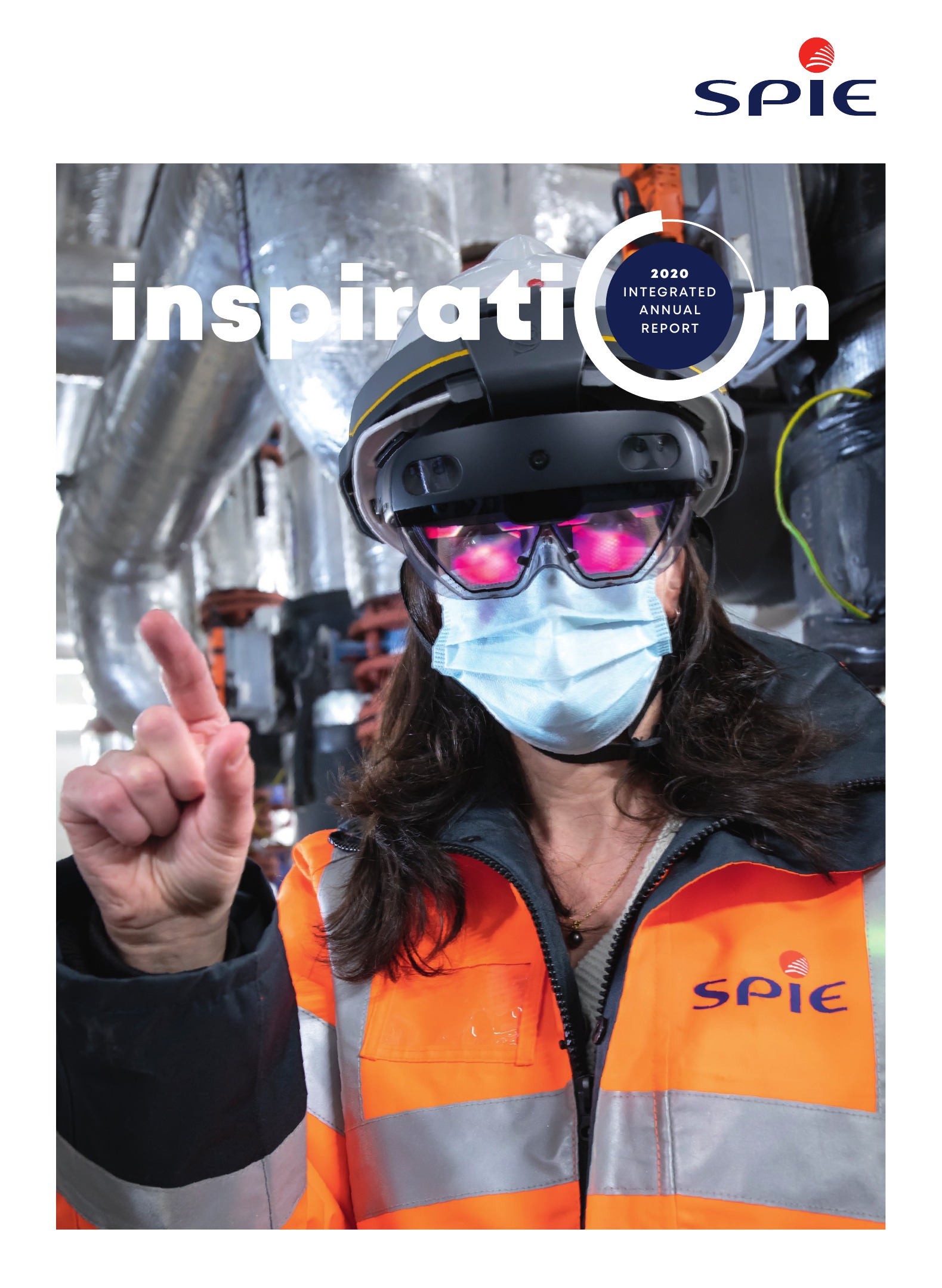 2020 integrated annual report
Discover how the Group is  committed to providing its customers with essential services and supporting them through the energy transition and digital transformation.
Videos
Discover SPIE
Key figures for the SPIE group for 2020. Value creation, financial and non-financial performance, high-impact projects, cities of the future and a carbon-free economy. Learn about SPIE, its key figures and contributions in 2020 in just a few minutes.
Mobile Applications
Discover the SPIE informative and interactive mobile apps:
@SPIE
Get news from the SPIE group delivered straight to your pocket.
@SPIE gives you an inside look at SPIE group news in all 38 countries where we operate. Available in 5 languages (French, English, German, Dutch and Polish), the application offers exclusive and centralised access to your main sources of information:
- Do you swear by the #SmartCity, the #IoT or #Aeronautics? Follow the topics that interest you and discover them at a glance.
- Receive notifications so you never miss any of our top news.
- Stay connected at all times with the feeds from our main social media accounts (Facebook, Twitter, LinkedIn and YouTube).
- Keep tabs on our press mentions with the "SPIE on the web" feed.
- Are you a Group employee with a SPIE e-mail address? You can also access all the internal news from the subsidiaries, the Group directory and your main online business tools.
The application is available for Smartphone and Tablet. Download it right now from the App Store or Google Store: it's free!
SPIE maps
SPIE maps includes:
- a directory of the Group's 600 locations (in France, Europe and around the world), also accessible offline,
- a search engine to find locations by name, street, city or country,
- an interactive map of our global presence,
- route mapping from your current location to any of our addresses, for travel on foot, by bike or by car,
- an option to call any of our locations in just one click from your smartphone.
In short, SPIE maps is the application that helps you locate SPIE... No matter where you are!
All it takes is just one click to update the database of our locations.
The application is available in both French and English. Download it right now from the App Store or Google Store: it's free!
SPIE IR
SPIE IR App gives you easy access to the latest financial information on SPIE when you are on the move, in a format optimized for smartphones and tablets. The App financial contents, namely share price information, financial news, publications and financial schedule, are continuously synchronized with the Investor Relations contents available from spie.finance.com.
SPIE IR App allows you to :
- Receive push notifications as soon as a new content is added to the App,
- Customize your information flow by choosing the push notifications you wish to receive,
- Browse through previously accessed information when you are offline,
- Add events to your calendar.
SPIE IR App is available for free from the App Store and Google Play.
SMART CITY by SPIE
SPIE highlights the challenges and opportunities generated by the rising urban population, in order to rethink urban planning decisions with local authority requirements and the needs of their citizens.
The SPIE's response: SMART CITY, giving a new meaning to urban life, for a smart, creative, high performance city that is sustainable and optimised for the kind of innovation that leads to a better urban lifestyle.
The ''SMART CITY'' application, available in french and in english, is made for professional uses under
IPad tablets
(
Apple store
) or
Androïd tablets
(
Google store
for the Androïd operating system). It offers you the opportunity to discover the SPIE's expertise and a short presentation of the group.